When shelter-in-place restrictions led to campus closures and online classes in spring 2020, our First Year Core Studio program saw these challenges as new opportunities to connect with students and use resources in genuine and experimental ways.
For a few of the First Year Core faculty members, their response wasn't limited to the classroom. From finding new ways to make PPE to supporting the Black Lives Matter movement, Erik Scollon, Edith Garcia, Victoria Wagner, and Juan Carlos Rodríguez Rivera created new ways to support their students and communities.
Adapting artmaking and mentorship for an online space
Collaboration and group work are a typical aspect of every First Year Core Studio course, but they became particularly essential behind the scenes when moving to an online format. When shelter in place began, Chair of the First Year Core Studio program Erik Scollon saw how his work with Associate Chair Carol Elkovich was an integral part of the spring 2020 semester and a necessity for the fall. "Carol has been instrumental in building frameworks and online resources for both students and faculty, while I have been focused on creative solutions that will allow students to have a robust engagement with their education in the fall, whether it is online or hybrid/in person."
First Year faculty member Victoria Wagner also expanded her role as everyone shifted online. With the understanding that students could be isolated in the residence halls or across the world in a hotel room, Wagner adapted projects to fit students' environments. In one instance, Wagner made videos showing students how they could use a cardboard box as a framework to weave a basket from bed sheets that had been ripped and braided together. The instruction served as inspiration for a project in Wagner's 3D Form vs Function course, which asked students to make woven structures, like handbags or other accessories, using objects from their home.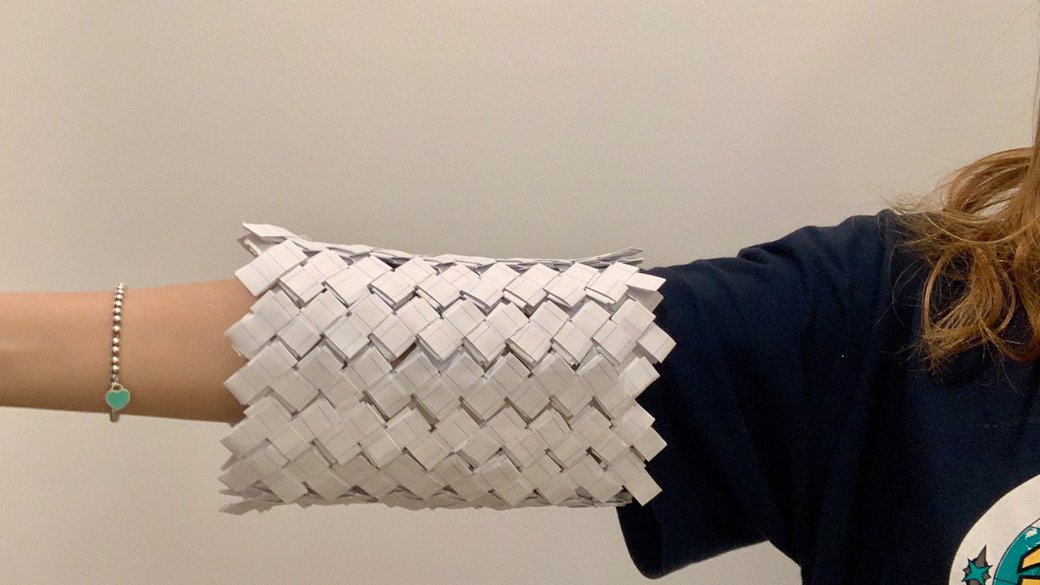 In addition to being their teacher, Wagner also became a mentor, facilitating a simple check-in with students. "This time is so much more about monitoring health and welfare than about previous measures of productivity," she says. "We can not only question making and thinking, but deeply consider issues of equity, marginalization, isolation, access, and communication from the vantage point of deep empathy for one another. Big opportunities now."
Assistant Professor Juan Carlos Rodríguez Rivera focused on each student's individual experience to understand how everyone was doing mentally, physically, and emotionally. "I had students going back to their parents' house, students quarantined in a hotel, students working to support their families, students going back to toxic living situations, and many more stories," he says. "I needed to honor and respect those which required me to adapt and prioritize elements in the class." Thus, class projects became a reaction to the situation in real time, as it unfolded. Students compiled huge collections of images and colors and used them to make GIFs that addressed what they were feeling, experiencing, or thinking in the unprecedented moment.
For Adjunct II Professor Edith Garcia, shelter in place meant transforming Engage, an on-campus exhibition and screening her students were planning, into a virtual reality (VR) exhibition. Using Artsteps, a program that allows users to create virtual exhibitions, Garcia's students created individual film projects with storyboards, sound design, and scripts. They also collaborated on each other's projects as producers and directors.
Each student prepared for the unveiling of the exhibition by making individual promotional packets of final film artworks, conceptual statements, self-portraits, and a website with all of their research. Leveraging Instagram to spread the word, students posted about the VR exhibition on their individual accounts to attract audiences and drew illustrations of themselves visiting the VR gallery space.
Student work from Engage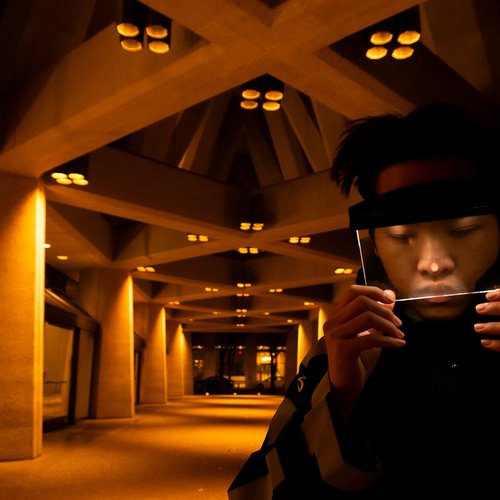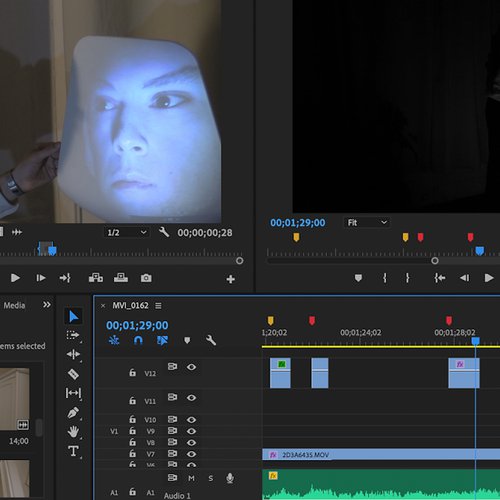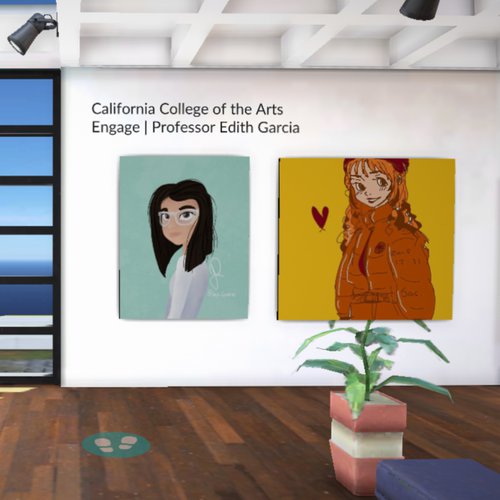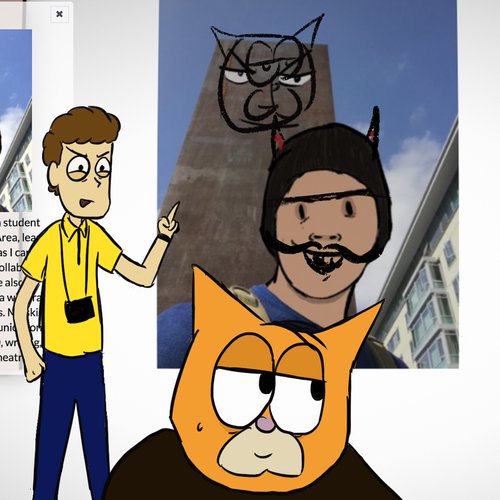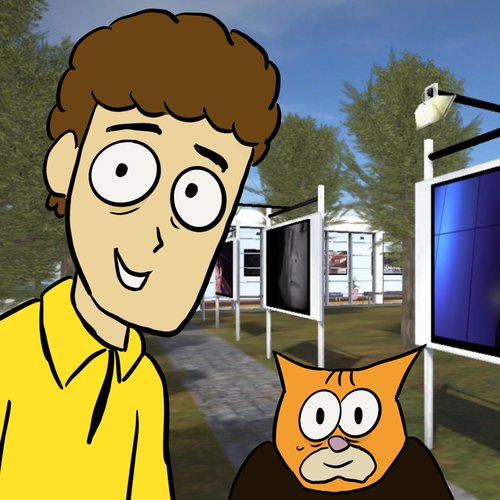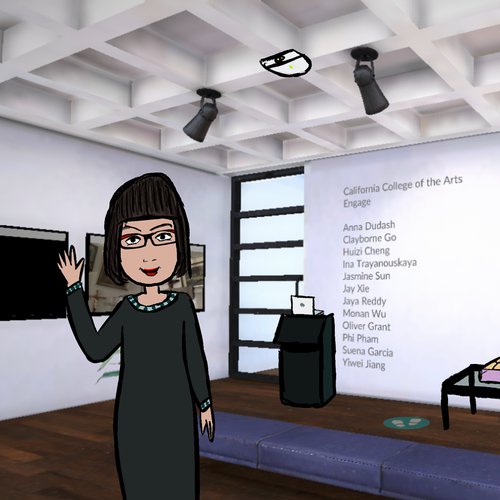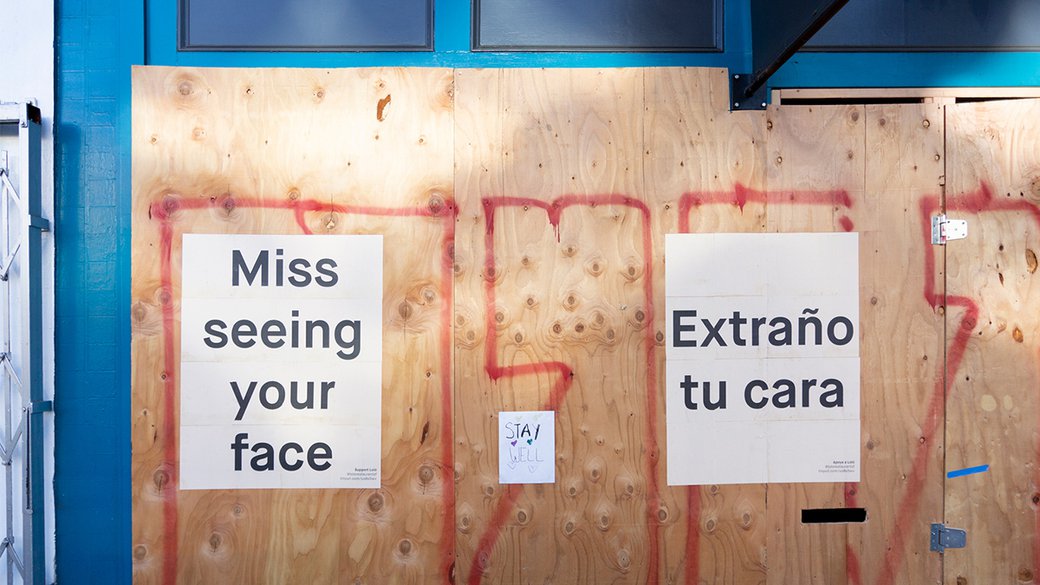 COVID–19 from another perspective
The pandemic not only brought alternative solutions for coursework to the table, it also established collaborations between First Year Core faculty and their colleagues to address important issues brought to the forefront by COVID–19. Garcia and artists Josh Hughes and Robin Rimbaud (aka Scanner) began working together to examine the need for personal protective equipment (PPE). Their project's efforts to highlight the meaningful designs, handcrafted aesthetics, and purposeful function behind PPE illustrates the power of creatives as cultural producers and engineers.
Rodríguez Rivera's collaboration with artists Marcela Pardo Ariza and Felipe Garcia JR played on another major effect of the pandemic: physical distancing. Their "This is Weird Without You" project began after San Francisco businesses—closed because of the restrictions on group gatherings—shared honest and hopeful messages on their social media accounts.
Inspired, the trio contacted each business and showed their support by wheat pasting excerpts of the messages as posters outside the boarded up storefronts. "The project intends to have a poetic energy in public space that recognizes the fact that we are all interconnected and we need each other's support now more than ever," Rodríguez Rivera says.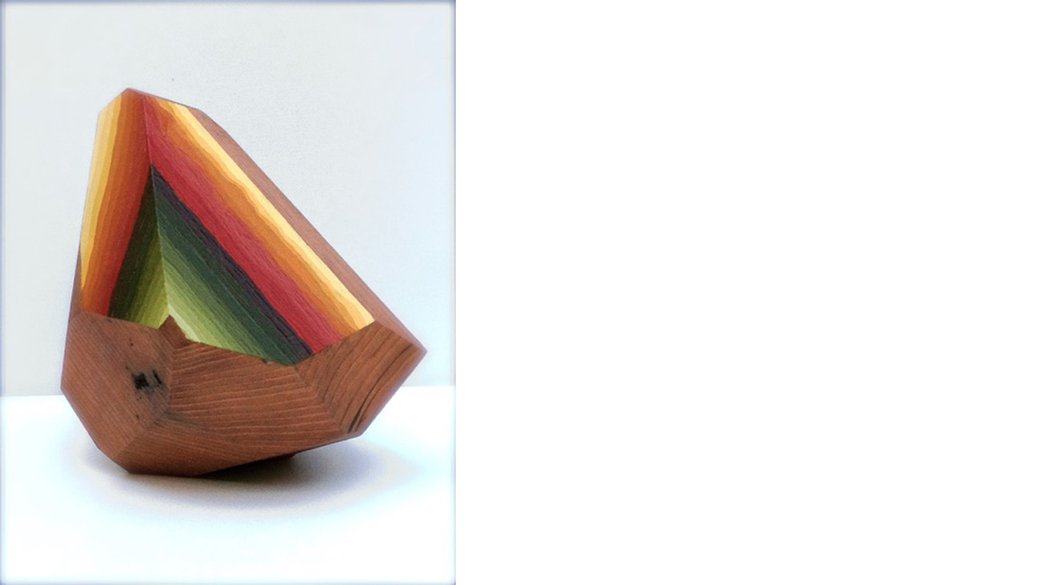 Taking social justice advocacy one step further
Growing up in a Nevada reservation town, Wagner always felt a deep connection to Indigenous people, lands, preservation, and reparations. After learning about Orenda Tribe, a sustainable fashion company featuring pieces made by Indigenous artists, Wagner donated her oil paint on redwood piece, Woodrock: Butter Yellow to Olive, to the organization's fundraiser supporting the Navajo (Diné) Nation during COVID–19.
"I knew the piece that I would donate from the first moment that I found out about the auction, and it sold on the first day," Wagner says. "Then, oddly, I was called to return to Nevada the next day. I spent the next several days with my mom as she declined and passed. When I wrote to the buyer to ask for some extra time to ship the piece, she mentioned that she had also just lost her mom. It was the most beautiful coincidence and ended up being a powerful experience."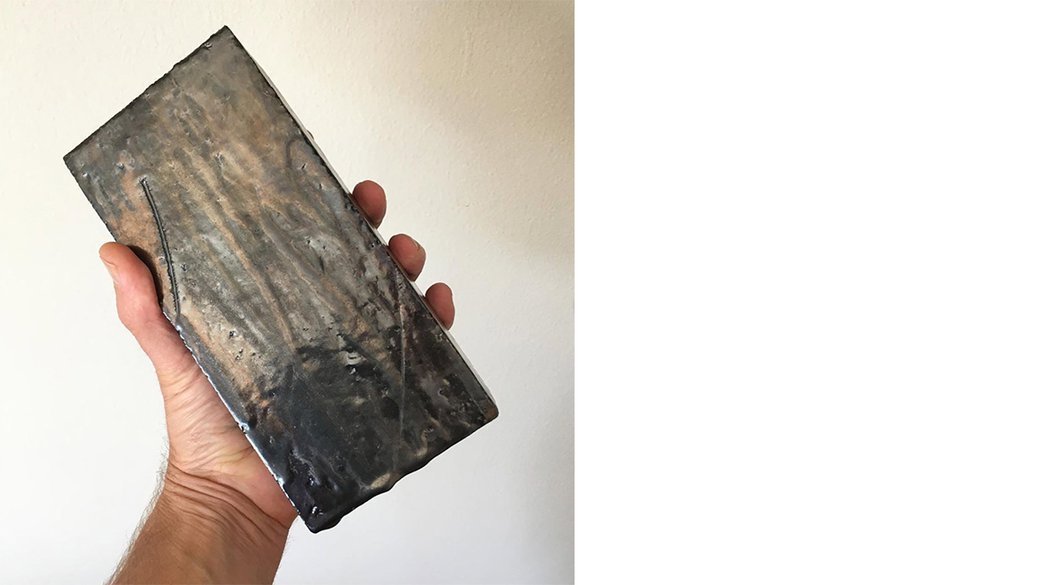 Over the past few years, Scollon has also transformed current events into moments for social justice activism, and COVID–19 was no exception. Since 2017, he's been creating ceramic bricks that he then sends to people who show him a receipt of their donation to a social justice organization. Individually and with Romer Young Gallery, Scollon has raised money for immigrants' rights; local food banks; women's reproductive rights; environmental groups; the ACLU; the NAACP; cancer care for a fellow gallery artist; and, most recently, for local organizations supporting the fight for BIPOC justice and liberation.
Why bricks? Scollon says, "I was thinking about how a brick could be used for many things—building a wall, building a bridge, building shelter, or being used to start a riot. The duality of a brick being hurled by Black trans activist Marsha P. Johnson to ignite the Stonewall protests, or a brick being used to build a wall, made them feel extra charged, and I like that duality in my art. I like unresolved intellectual conflicts that make someone think deeper about what I am trying to say and what their own understanding is."
Looking ahead to the fall semester
CCA's fully online fall 2020 semester will be another time of discovery and exploration. Though the completely remote setup is not ideal, First Year Core Studio program faculty are incredibly prepared, thanks to lessons learned in spring and summer semesters. They're eager to provide purposeful instruction to new students and for more opportunities to continue to impact their communities.
"As a professor at CCA," Garcia says, "I have a responsibility to give students the support they need to have a meaningful and impactful first-year experience. That includes collaboration and real-world experiences. Whether we are in a classroom physically or metaphorically, it is essential to foster their professional development growth, along with an understanding of their space within contemporary culture, and to give them a platform to create impactful creative productions to share with larger audiences."
The spring 2020 Image, Motion, and Process course was taught by First Year Core Studio Adjunct Professor Edith Garcia. Students included Anna Dudash, Clay Go, Huizi Cheng, Ina Trayanouskaya, Yiwei Jiang, Jasmine Sun, Jay Xie, Jaya Reddy, Monan Wu, Oliver Grant, Sue?a Garcia, and Phi Yen Pham.
The spring 2020 Text, Image, Content course was taught by First Year Core Studio Assistant Professor Juan Carlos Rodríguez Rivera. Students included Anna Dudash, Yuchen Zheng, Delaney Tate, Jiwon Kim, You Li, Oliver Grant, and Chizumi Kano.
The spring 2020 3D Form vs Function course was taught by First Year Core Studio Senior Adjunct Professor Victoria Wagner. Students included Ayana Miyoshi and Kexin (Cathy) Zhang.